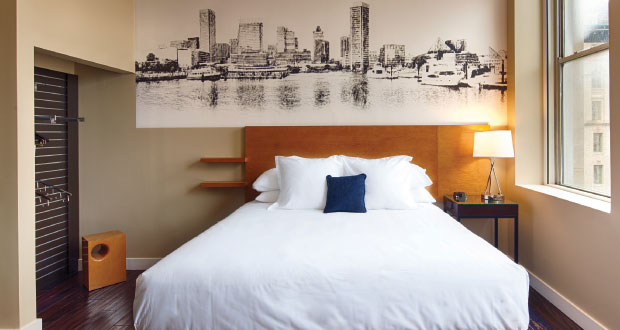 The numbers paint a rosy picture for developers and owners who want to dip their toes in the boutique, lifestyle, and soft brand segments. Collectively, these arenas are an $11.5 billion industry and growing, according to a report by The Highland Group.
Demand has increased for boutique, lifestyle, and soft brand hotels over the past six years, clearly since the recession, says Kim Bardoul, a consultant with the Atlanta-based hotel consultancy group and co-author of the 2015 report. For example, with lifestyle properties 300 rooms and under, demand grew at an annual average pace of nearly 20 percent from 2009 through 2014—far above the rate of overall U.S. hotel demand growth of 4.2 percent, the report shows.
"The independent boutique has remained steady in growth, but the soft brand and lifestyle segments have clearly grown stronger in the past two years," Bardoul says. "I really expect that to grow, because of the awareness the brands have brought to the industry."
During the same six-year period, supply for lifestyle hotels and soft brands, which are newer products to the market compared to the more established boutique segment, grew at a compound annual average rate of 11.5 and 17.8 percent, respectively. Meanwhile, compound boutique hotel supply grew 3.1 percent—over three times the rate for the U.S. hotel industry overall. Compound demand change for the boutique segment was 6.7 percent, compared to a 4.2 percent increase for all U.S. hotels.
To compile the report, The Highland Group pored through STR hotel census data and qualified hotels into these three segments (see chart). Bardoul says they classified boutique hotels as unique in style, small, and either independent or affiliated with small systems (think Delano by Morgans Hotel Group or Thompson by Commune Hotels & Resorts). Of those boutique properties, 21 percent have less than 60 rooms and 17 percent have 160 to 300, and they range in design and building type. Boutiques have a strong representation in California, New York, and Miami, but appear in at least 46 states, she adds.
"Boutique is a popular but loosely used term, and most people associate it with small," she says. "Most definitions you pull up use the word 'small,' but they also use the words 'unique,' 'highly specialized,' 'niche,' and 'elite.' We used that criteria similarly to distinguish between your typical independent hotel, which is very limited in service or amenities without a specific design, from all the others."
In response to changing traveler tastes and adapting interests of their development communities, the chains have responded by introducing lifestyle and soft brands. The report describes lifestyle brands as prescribed franchise products that are adapted to current trends (e.g., AC and Moxy by Marriott, Canopy by Hilton, Hyatt Centric). Soft brands like Ascend by Choice, Autograph by Marriott, Curio by Hilton, and Tribute by Starwood give hotel owners and operators the opportunity to affiliate with a major chain distribution system while retaining the unique name and properties of an otherwise independent hotel.
"Developers and owners are seeing increased interest in what I'm calling the 'now' traveler, and there's an opportunity to capitalize on that with little risk, especially if you go through a brand," Bardoul says.
For more:Â http://bit.ly/1hU4VPJ