California's Division of Occupational Safety and Health has adopted a new rule to help reduce injuries for hotel housekeepers.
Cal/OSHA's Occupational Safety and Health Standards Board approved the rule in a 5-0 vote on Thursday.
The rule will require employers to establish, implement and maintain an effective written musculoskeletal injury prevention program that addresses hazards specific to housekeeping, according to Cal/OSHA.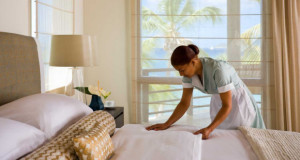 "Hotel housekeepers are the invisible backbone of the hospitality industry," Pamela Vossenas, New York-based director of worker safety and health for union Unite Here, said Friday in a statement. "Overwhelmingly women, immigrants and people of color, housekeepers face high rates of workplace injury. The state of California has recognized the seriousness of the dangers housekeepers face and took an important step to protect these workers."
Lifting 100-pound mattresses and pushing heavy carts and vacuums can lead housekeepers to suffer strain, sprain and tear injuries that can require physical therapy or even lead to permanent disability, according to the union, which first petitioned Cal/OSHA to develop a standard to protect hospitality workers from injury in 2012.
Read entire article: Business Insurance