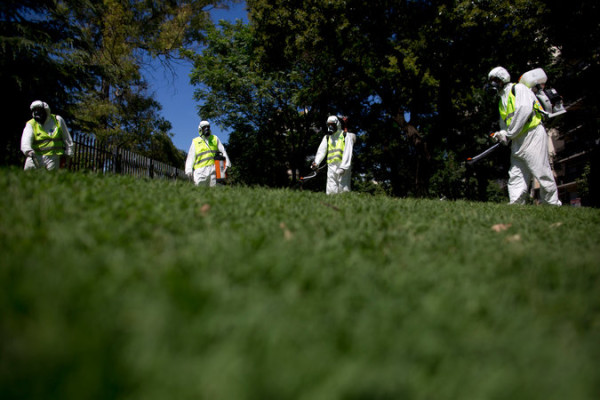 The travel industry is beginning to react as vacationers rethink their trips amid growing concern over the Zika virus, the mosquito-borne disease that experts say is possibly linked to microcephaly in babies. The spread of the virus has led the Centers for Disease Control and Prevention to warn pregnant women and those planning to become pregnant against travel to affected areas, including popular Caribbean tourist destinations like Puerto Rico, the United States Virgin Islands and Barbados, as well as Mexico, Brazil and Panama.
United Airlines said that customers who hold tickets to regions that the C.D.C. says are affected by the virus can postpone their trips or receive full refunds.
American Airlines said that pregnant women with tickets to Panama City, Guatemala City, Tegucigalpa and San Pedro Sula in Honduras, and San Salvador in El Salvador will receive a refund if they provide a doctor's note stating that they are unable to travel because of their pregnancy.
JetBlue will allow customers who have concerns about traveling to Zika-affected areas a refund or rebooking, a spokeswoman said.
Virgin America will let travelers who have tickets to any Mexican destinations — Cancún, Puerto Vallarta and Los Cabos — get a refund or change their flight free of charge, a spokesman said.
Cruise lines are also working with travelers who want to change their plans. A spokeswoman for Princess Cruises said that pregnant women who are on itineraries visiting Zika-affected countries can cancel their cruises and get a credit for future cruises.
A spokesman for Royal Caribbean said that pregnant women who do not feel comfortable sailing to countries affected by the Zika virus can choose an alternative itinerary or get a credit for a future cruise, valid for two years.
Norwegian Cruise Lines is also making accommodations for pregnant women by allowing them to reschedule their cruise for a future date or change their itinerary to nonaffected destinations, a spokeswoman said.
Hotels in the affected regions are largely not offering refunds. While some are taking precautionary measures to prevent the spread of the disease, they have not implemented specific cancellation policies for guests who want to change their plans.
Hilton Worldwide, with 109 properties across its 13 brands in the affected areas, as well as Hyatt hotels and Four Seasons Hotels and Resorts, are considering waivers for cancellations on a case-by-case basis.
Some tour providers, meanwhile, especially in Brazil, where it is peak tourist season, report that they are fielding inquiries from concerned clients who have vacations planned in the country in the coming weeks.
For more: http://nyti.ms/1T0bcse