Providing an accommodating atmosphere that doesn't compromise safety is the biggest challenge that hotels face. Achieving these goals requires a multifaceted plan that starts with staff training and guest education about safety and security issues. Management must also consistently enforce established security policies, such as allowing only registered guests on hotel property. Constant planning to stay ahead of these issues is also a must, especially when the hotel hosts public events.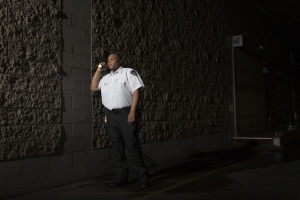 Control Access
Controlling access is an important part of hotel security planning to prevent criminals from stealing money and valuables from guest rooms. Management must train contractors and staff in controlling room key distribution and restricting access to registered guests only. During off-hours, security personnel should be stationed at all main access points to greet people, while deterring anyone with no business on the property, including disruptive or intoxicated non-guests.
Educate Guests
Hotel staff has a responsibility to educate guests about safety and security responsibilities. The challenge is getting the message across without negatively affecting the customer's experience. For example, the bellman can stress the importance of locking hotel room doors to prevent strangers from entering. Front desk clerks can also discourage guests from actions that leave them vulnerable to thieves, such as flashing room keys or yelling room numbers across the lobby.
Patrol Public Areas
Technology has come a long way in helping hotels to upgrade basic security measures. Closed-circuit TV cameras with recording systems are essential for securing such busy public spaces as bars, docks, lounges, and parking lots. However, these areas also allow open access for disruptive persons, muggers and pickpockets. Active monitoring of the camera images by staff and proper lighting reduces the opportunities for such crimes. Offering a security concierge to escort guests also minimizes the risk of non-assaultive crimes, such as luggage thefts.
Advance Measures
Communicating basic safety and security measures becomes even more important at public events such as conventions, where travelers may feel as if they're leaving real world dangers behind. To head off problems, management should send advance communiques to event attendees. The notices should contain basic safety tips, such as the need for locking doors, not leaving cellphones and laptops unattended, and being alert in public areas.
For more info: ( http://bit.ly/2agiHgI )