A well-organized and well-stocked housekeeping cart is the key to efficiency. It enables room attendants to avoid wasting time looking for a cleaning item or making trips back to the linen room for more supplies. The specific amounts of items loaded onto a cart will vary according to the types of rooms being cleaned, the amenities offered by the property, and, of course, the size of the cart itself. A room attendant's cart is generally spacious enough to carry all the supplies needed for a half-day's room assignments.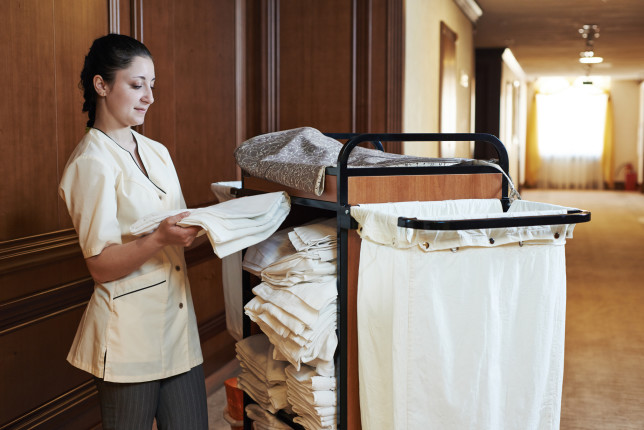 Stocking the Cart
Most carts have three shelves—the lower two for linen and the top for cleaning supplies and amenity items. It is just as important not to overstock a cart as it is not to understock. Overstocking increases the risk that some items will be damaged, soiled, or stolen in the course of cleaning.
In most cases, all the cleaning supplies for the guestroom and bathroom are positioned in a hand caddy on top of the cart so that the room attendant does not have to bring the entire cart into the room.
A laundry bag is usually found at one end of the cart and a trash bag is at the other. A broom and vacuum are also positioned on either end of the cart for easy access. For safety and security reasons, personal items and room keys should not be stored on the cart.
For more info click here: (http://bit.ly/2ci53KX)
(Visited 91 times, 1 visits today)