High levels of customer satisfaction in the hospitality and leisure industries are critical to the success of any property. It is even more challenging to maintain customer satisfaction while reducing costs associated with employee injuries and the workers' compensation claims. Employees are continually trained on the nuances of customer service skills and customer interactions in order to achieve the best levels of service. However, maintaining a high level of productivity is difficult when employees have been injured. Increasing injury rates result in higher workers' compensation insurance, medical care, and claim costs.
Taking a look at the causes of work-related injuries, implementing standardized work practices, and making simple changes can yield a significant decrease in injury risk and an increase in productivity. A single property within a national hotel chain has been able to decrease its workers' compensation costs by $500,000 in the first year while improving its customer satisfaction ratings.
Within the U.S. hospitality and leisure industry, food services and accommodations employees represent 12.9 million of the 15 million employees. In 2014, the recordable injury rate among these employees was 3.6 injuries per 100 full-time employees. These injury rates can be higher among employees in departments such as housekeeping and banquet operations. One study indicated that up to 95 percent of the housekeepers indicated they experienced severe to very severe physical pain.
Any effective ergonomics and process improvement program should include aspects such as management support, employee involvement, training, problem identification, early reporting of injury symptoms, evaluation of hazard controls, implementation of hazard controls, and evaluation of progress.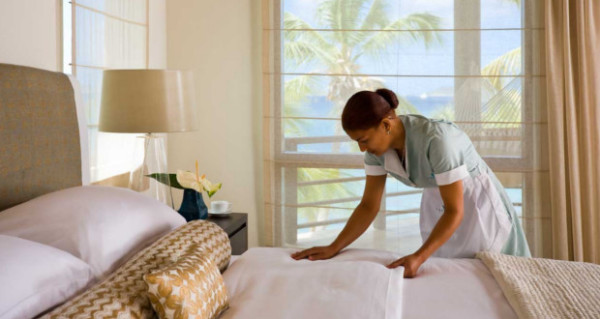 Effective administration and implementation of each aspect is important, but knowing which changes will bring the most improvement in productivity and injury reduction can make a big difference.
Let's take a look at housekeeping: Their work ensures proper cleaning as well as maintaining the visual standards of the brand. Over the past decade, consumers' expectations of luxury as it relates to hotel rooms have increased. Furnishings are more luxurious and often include thicker mattresses, plush duvets, decorative bed skirts, and the inclusion of a variety of pillows.
In an effort to reduce injury risk while maintaining or improving customer satisfaction within a housekeeping department, we reviewed common tasks and identified the tasks that were most likely to cause injury. A detailed study was conducted of these common housekeeping tasks, such as cleaning bathrooms, changing and making beds, and removing trash and soiled linen. The evaluations determined the extent of injury risk factors and opportunities to improve the quality of the services performed. After the analysis, recommendations were made related to the selection of appropriate tools, the modification of techniques for cleaning showers and bath tubs to decrease awkward postures and minimize forces, and the identification of methods to minimize awkward postures and forces while changing beds and handling trash and dirty linens. One key factor in the success of these changes was training the employees in the appropriate methods, injury risk factors, and the proper use of tools. The changes made within the housekeeping department decreased duvet-making time by 32 percent while maintaining a standard look; reduced the number of awkward shoulder postures by 72 percent; and reduced the number of awkward back postures by 45 percent. Guests indicated an improvement by a 5 percent increase in customer cleanliness ratings.
Another department that commonly experiences a high number of injuries is the banquet operations department. Within the banquets area, server and setup tasks were also evaluated. Following similar principles, tasks were identified that had previously caused injury or were difficult to perform. Evaluations were again conducted and recommendations were made. These recommendations involved working with vendors to identify the changes to carts that could make the most impact on decreasing push/pull forces while not decreasing the load on the carts. Additionally, standardized methods of room setup and table movement were established. These simple changes and employee training yielded a decrease in injury risk, improved employee morale, and increased efficiency.
Maintaining high levels of customer satisfaction while minimizing employee injuries and workers' compensation costs in hospitality and leisure industry is critical to the success of any property. Evaluation of tasks by a qualified professional (such as a certified professional ergonomist) can ensure that risk factors are appropriately identified and that the recommendations will adequately reduce injury risk. Minimizing costs, reducing injuries, improving efficiency, and improving customer satisfaction ratings are benefits of a successful ergonomics and process improvement program.
For more: http://bit.ly/1SaVAye
(Visited 511 times, 1 visits today)