Biometrics (voice recognition, fingerprint or retina scanning) is quickly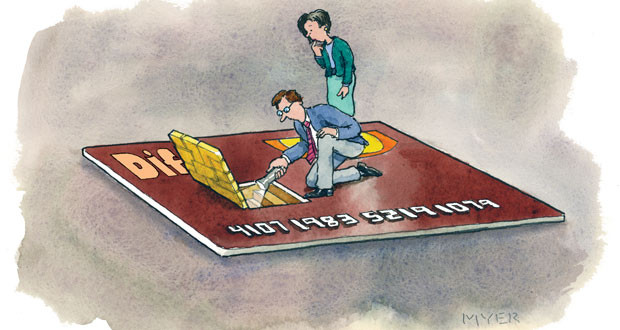 becoming another method of user authentication…Actual credit card data is exchanged only within the bank and payment network, not directly tied to the customer's interaction with the merchant, removing the merchant from handling that data.
By the end of this year, it's estimated that 70 percent of all credit cards and 40 percent of all debit cards (about 1.1 billion in total) worldwide will be EMV capable. This payment system, also known as chip and pin, adds dynamic data to the transaction stream that renders replay of payment transactions impossible. And since every card contains its own microprocessor chip, EMV (which stands for Europay, MasterCard, and Visa) cards are nearly impossible to counterfeit.
There's no need for the card to leave the customer's sight, and there's no swiping. The credit card number isn't exposed on a screen. Though not entirely fail-safe, the technology is a global standard and makes transactions hundreds of times more secure. In Europe, which has had EMV for years, reports indicate that card fraud has fallen as much as 60 percent over the last decade, whereas here in the United States, it's increased about 50 percent over that same time period.
For more:Â http://bit.ly/1B2Dzwd