A supplement to frequent hand washing is to use hand sanitizer.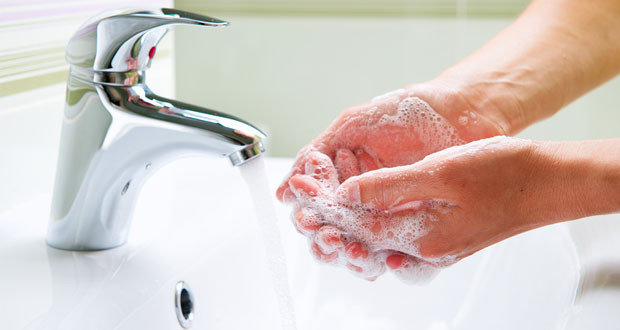 To encourage use of hand sanitizers by employees and guests, place labeled hand-sanitizer dispensers at the front desk, restaurant areas, back offices, public restrooms, and elevators. Check and refill the dispensers daily.
Winter months bring an increase of cold, influenza, and other communicable illnesses to the workplace. To reduce the spread of germs and cross contamination, housekeeping departments should focus on common contact points.
Sanitize Hard Services. Most hard surfaces, such as doors, drawers, telephone receivers, TV remote controls, light switches, toilet handles, and in-room directories, can be disinfected with a commercial disinfectant cleaner on a daily basis. Returned guestroom keycards should be placed in a separate bin for disinfecting. All guestroom glassware must be thoroughly washed with hot water and detergent—in a dishwasher or three-compartment metal sink—before being placed back into service. Improperly sanitized glassware and utensils can transmit mononucleosis, herpes, E. coli, salmonella, hepatitis A, influenza, and even staph infections. Hotel glassware should never be washed in a guestroom sink.
For more:Â http://bit.ly/1E0wrBS
And for more on industry best practices, check out the video below from Petra's own P3 Risk Management Team.
[vimeo https://vimeo.com/98741016Â w=500&h=281]
Petra Risk Solutions' Loss Control Manager, Matt Karp, offers a P3 Hospitality Risk Report – 'Preventing Norovirus at Your Property'. 
P3 (Petra Plus Process) is the Risk Management Division of Petra Risk Solutions – America 's largest independent insurance brokerage devoted exclusively to the hospitality marketplace.
For more information on Petra and P3 visit petrarisksolutions.com or call 800.466.8951.