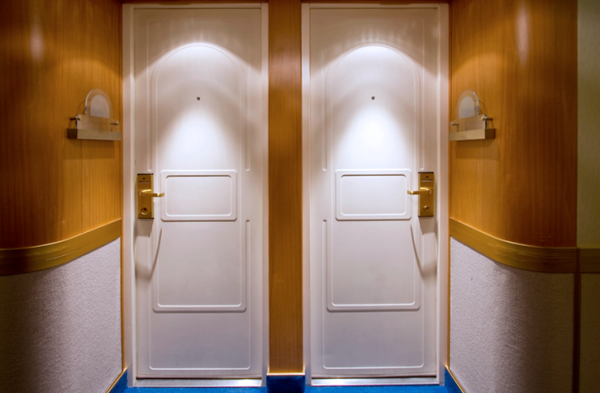 A jury's decision this week to award sportscaster Erin Andrews $55 million in a civil suit against her stalker and the owner and management company of the Nashville hotel in which the man secretly videotaped her will have repercussions for the hotel industry for years to come, sources said.
In 2008, Michael David Barrett recorded Andrews while she was nude through the peephole of her hotel guestroom at the Nashville Marriott at Vanderbilt University. Barrett, who later pleaded guilty to felony stalking in 2009, discovered which room was Andrews' and reversed the peephole in the door to see inside. The jury in Andrews' civil suit found Barrett, as well as the owner of the hotel, West End Hotel Partners, and the management company, Windsor Capital Group, to be responsible.
Andrews had originally included Marriott International in her original suit; however, the court in Tennessee found that Marriott had no liability in the case, and dismissed it.
Stephen Barth, a professor of hospitality law at the Conrad N. Hilton College of Hotel and Restaurant Management at the University of Houston and founder of hospitalitylawyer.com, testified on behalf of the defense during the civil trial. The defendants in this case did what they were supposed to do, Barth said in an interview with HNN, and he believes that because the companies were focused and diligent on their policies, procedures and employee training, it gave the jury members pause during their deliberations.
With the outcome of the case, Barth stressed that just as before, it's important for hoteliers to have the right policies and procedures in place as well as the proper training for staff to deal with guest privacy issues.
"You need to be able to demonstrate the training that went on, the frequency and outcomes," Barth said. "How do you evaluate whether the training was effective? Ultimately, you have to be able to demonstrate this in a courtroom."
Policies, procedures and training
David Samuels, partner at Michelman & Robinson, said one of the issues that jumped out at him in following the trial was whether the management company had the proper policies and procedures in place regarding guest privacy. He said he believes several jury members were bothered by the testimony of some hotel staff who couldn't recall having those policies. Samuels followed the trial but was not directly involved in it.
At this point, all owners and operators should review how they're running their properties and whether they have specific written policies and procedures in place.
"They need to have those and effectively train the staff on it," Samuels said.
Along with having those policies in place, hoteliers should regularly update those policies based on legal developments, such as the Andrews case, according to Sylvia St. Clair, an associate with Faegre Baker Daniels. If there's any question about whether a policy is in compliance with the law or industry standards, she said, contact legal counsel or the human resources department.
"Then ensure (that) new hires receive that training as well as existing employees," she said.
If a front-desk associate receives a request for a guest's private information, such as his or her guestroom number, St. Clair said the associate should know not to give that information out unless he or she is authorized to do so. The associate should know to contact his or her manager or supervisor with questions.
"You want a statement to give to (anyone) requesting information," St. Clair said. "Make sure employees know if they are receiving these types of requests, and the person requesting is continually asking, they shouldn't hesitate to get their manager or GM involved."
After completing the training, St. Clair said, document the training in employees' files to show they received the latest version of the policy and understand it.
House phone access
During the civil trial, there was a dispute over how Andrews stalker learned which guest room was hers, Samuels said.
Andrews attorneys argued her stalker learned from the front-desk staff, an allegation the associates denied during the trial. Her stalker, Barrett, said in a taped deposition that he figured out Andrews room number by using an internal house phone at the hostess stand in the hotel restaurant.
"Those are only supposed to be used by employees," Samuels said.
Barrett called the front desk and asked to speak with Andrews, Samuels said, and when the line was connected, Andrews room number appeared on the phone's LCD screen. Barrett then went to her floor, saw the room next to hers was being turned over and then requested at the front desk to be in that room.
"From a privacy standpoint, from a safety standpoint, hotel guests should never be allowed to use an internal house phone that displays the room number on an LCD screen," Samuels said.
If guests need a house phone, he said, they should be directed to one without an LCD screen and it should connect to an operator.
Similarly, hotel employees should be aware of who may be looking over their shoulders when using phones that display room numbers, he said.
Red flags
In the plaintiff's closing argument, Andrews attorneys asked why the front-desk staff was not more critical about someone asking for a specific room, especially one next door to Andrews, according to Christian Stegmaier, a shareholder at Collins & Lacy. Stegmaier followed the case but was not directly involved in it.
That argument might presume too much about Andrews' fame at the time, he said, as the front-desk associate may not have put two and two together.
"The takeaway from all of that is when you have a prospective guest making very specific requests, like about specific rooms, you need to be critical (of it)," he said.
Asking some gentle questions might allow the associate to learn a little more about the person making the request and why that specific room is so important to them, Stegmaier said.
"From a management perspective, you need to empower your associates to use that kind of critical thinking," he said. "You want to encourage that."
That is doubly important when the front-desk staff is aware of any celebrities or dignitaries staying in the hotel, Samuels said. Any requests for a specific room adjacent to such guests should send up a "big, red flag," he said.
For more:Â http://bit.ly/1VcP6UN