Mobility may be one of the most important elements in maintaining personal autonomy. And now, thanks to the incredible technology behind robotic exoskeletons, the elderly, the injured, and many others can experience mobility like never before. In a new video, Panasonic unveils its latest achievements in the robotics field, applying advanced control and sensor technologies to create a motor-equipped robot that will assist with human body mechanics.
Panasonic has developed a pair of suits — one meant primarily for industrial purposes, and another to help the disabled. The power assist suits will help users perform manual labor and potentially dangerous tasks in a range of worksites, and Hiromichi Fujimoto, president of Activelink Co. (one of Panasonic's in-house venture companies) noted, "We are proposing robotics to help at these worksites, because there will always be a certain level of work that must be done by people, and these power assist suits can help reduce the physical strain during such work."
To help with lifting and carrying heavy loads, Panasonic has introduced the AWN-03, an assist suit designed specifically to provide lower back support. By sensing the wearer's motion when lifting or holding heavy objects, the suit sends a signal to its motors to jump into action. By raising the user's upper body while simultaneously pushing on their thighs, the suit promises to reduce stress on the lower back by 15 kg.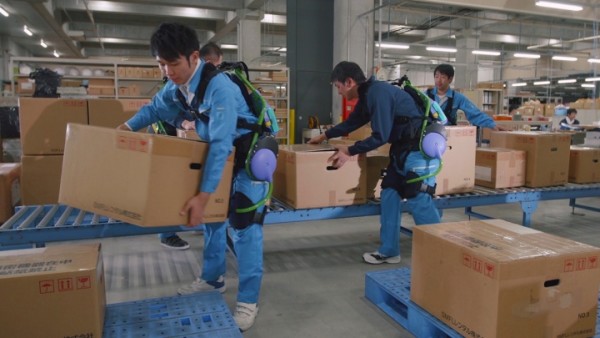 There are also two additional suits that could be used in industrial settings — the PLN-01 (the "Ninja") is meant to help the user's motion while walking and running, whereas the Power Loader is heralded as a powerful suit perfect for use during disaster relief, construction, and public works.
On the other end of the spectrum, Panasonic has unveiled suits meant for the elderly. "As Japan has becomes an aging society, Panasonic is aspiring to make its contribution by supporting the elderly and their families lead a comfortable life full of smiling faces and laughter" explained Hitoshi Sasaki, assistant director of Sincere Kourien, an elderly care facility run by Panasonic Age-Free. "There are many instances that can be straining to both caregivers and care recipients. Just moving from the bed to a wheelchair can be a very energy consuming for both parties."
For more: http://bit.ly/1UGTjAW
(Visited 99 times, 1 visits today)