White suffered a traumatic brain injury and spinal wounds while serving with the U.S. Army in Afghanistan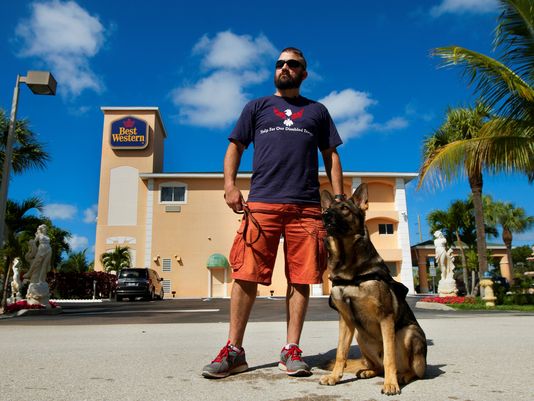 in 2012 when a 200-pound improvised explosive device detonated near his vehicle. The Wyoming, Mich., resident said he has been on anxiety medication and has been helped greatly by Camo.
A bill making its way through the Legislature may prevent situations like the one Monday night in which a young veteran was arrested at a Bonita Springs hotel after he, his family and his service dog were denied lodging.
Jason White, 34, was arrested at the Best Western following a dispute with the hotel manager and staff over his service dog, Camo. He was charged with battery and destruction of property, the Lee County sheriff's report said, after he kicked and cracked a television and shoved the hotel manager, Vinit "Vinnie" Patel.
For more:Â http://newspr.es/1Ej6AHZ
And for more on the do's and don'ts of service animals, check out the video below from Petra's own P3 Risk Management Team.
[vimeo https://vimeo.com/102936915Â w=500&h=281]
Petra Risk Solutions' Director of Risk Management, Todd Seiders, offers a P3 Hospitality Risk Report – 'ADA Service Animals: Do's and Don'ts'. 
P3 (Petra Plus Process) is the Risk Management Division of Petra Risk Solutions – America 's largest independent insurance brokerage devoted exclusively to the hospitality marketplace.
For more information on Petra and P3 visit petrarisksolutions.com or call 800.466.8951.