Glass panels were removed from balconies on the 37-story, $300 million building in mid-2011 after eight panels shattered on three separate occasions in June, raining glass into the hotel´s pool area and onto adjacent streets.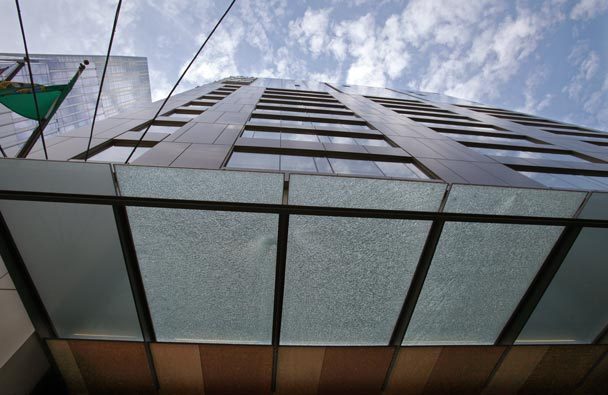 Final repairs will soon begin on balconies at the W Austin Hotel and Residences, with workers set to install about 1,000 panes of specially engineered glass that can withstand hurricane-force winds and even bomb blasts, according to its manufacturer.
SentryGlas, a product from DuPont, was determined to be the right choice, Armstrong told the American-Statesman.
The contractors, not Stratus, will pick up the tab for the $2.5 million project, Armstrong said. About $500,000 has already been spent removing the original glass, as well as providing security guards and protective walkways while that work was under way.
SentryGlas has an interlayer that holds together shattered panes, according to Harvey. But, he said, its interlayer is much, much tougher than typical laminated glass — 100 times stiffer and five times stronger.
Instead of brackets on the sides, the glass will now be inset with stainless steel mounts at the top and bottom of each panel.